Meet Kris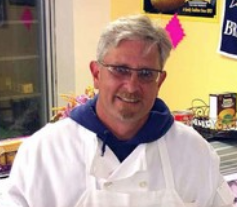 The club's kitchen was closed for 11 months, Spencer said, during which time they hired a new chef, Kris Kreiger.
Kreiger caught buzz among Cleveland foodies in the 2000s when he opened a butcher shop in Berea called Chef's Choice Meats, curing his own salami, chorizo and sausages. After the store closed in 2010, Kreiger went to work in Germany and was hired by the Akron Woman's City Club when he returned home, Spencer said.
Kreiger has modernized the club menu, adding his own specialities, including his cured corned beef and homemade sauerkraut.
In coming weeks, the club hopes to open twice monthly to the public for Sunday brunch, Spencer said, and possibly for occasional dinners, too.
Without a kitchen for nearly a year, the Woman's City Club lost its wedding business, she said, and its membership — once 1,000 strong with a waiting list — has dwindled to 184.
Spencer said she hopes the public outreach will show what the club and Kreiger have to offer.
-ABJ Akron Woman's City Club feeds police, prepares to show off new chef with twice-monthly brunches for public, January 22, 2017