Coach House Theatre - We're right in your backyard!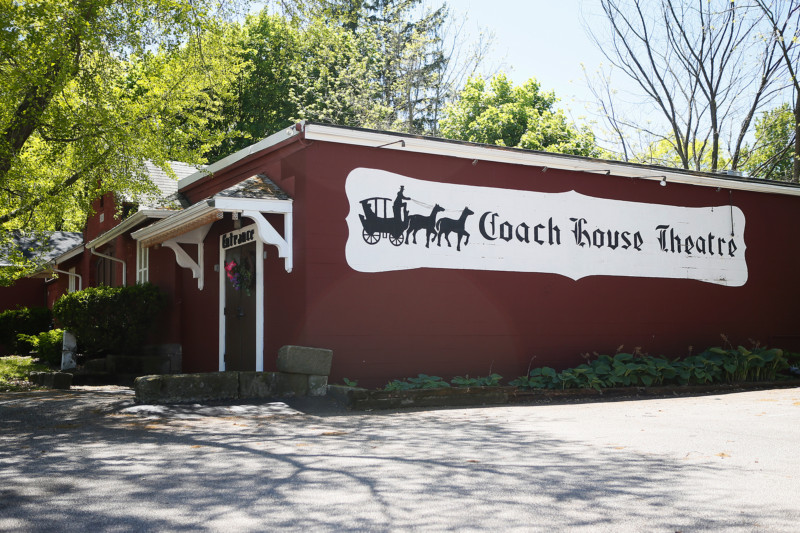 We are proud to present our 91st Season:
Making God Laugh
September 21-30, 2018
Four holidays, four decades and one typical Catholic family come together in this tender play by Sean Grennan
The Best Christmas Pageant Ever
December 7-16, 2018
The Herdmans are the "worst kids in the history of the world" but an unsuspecting new parent casts them to play characters of the Nativity scene in the Church Pageant. Fun for the whole family in Barbara Robinson's classic holiday tale.
Stage Fright
January 25-February 3, 2019
A critic believes he has been invited to give an interview for a television special but soon finds himself kidnapped and facing imminent death. Suspense unfolds in the this drama by Charles Marowitz
Private Eyes
April 12-21, 2019
A modern day Dangerous Liaisons. Steven Dietz gives us a dramatic comedy of suspicion where nothing is quite what it seems. The audience must decide if they are in the play or in reality in this tale of lust, love and the power of deception.
Comedy TBA
May 24-June 2, 2019
Some shows are so new they haven't left the NYC stage yet. We are currently working with the team of a "magical" Off Broadway comedy to bring you this hilarious story of a lesser known "House" (Should licensing not become available by early 2019, we have a hilarious alternative all ready to go)
See all five plays for the season subscription price of only $90.00.
Subscribers have the opportunity to select their favorite seats! Curtain times are 7:30pm on Thursday, Friday, and Saturday; and at 2:30pm on Sunday. 
Season Tickets go on sale July 1 - please call 330.434.7741
Individual Ticket Prices
Adults: $20
Students (with current ID): $10
Groups of 10 or more: $15
Join Us for Dinner
Theatre patrons are welcome to enjoy dining at the Club (across the parking lot from the theatre) on selected Sundays. Reservations are required by 2:00pm one day in advance by calling 330.762.6261
SHOWTUNE SHOWOFF - Our Monthly FUNdraiser!
Next event is July 9
Do you love to sing Showtunes? Do you love to listen to people sing Showtunes? Then this event is for you!
Join us every second Monday of the month for our fundraising event Showtune Showoff! Bring your favorite sheet music or use ours. Bring your favorite accompanist or use ours.
Bring your favorite track or use ours. Come try out a new audition piece, belt your favorite Broadway hit, sing with your friends or just listen to people sing with their friends!
Details:
When-Every second Monday of the month from 7:00-10:00 pm
Where-Coach House Theatre 732 W. Exchange St. Akron
Admission-$10 (includes 2 non alcoholic beverage tickets) to get in. $2 per person, per song to sing.
Concessions will be sold as well, must be 21+ with valid ID to purchase/consume wine.
1st Annual Community Rummage Sale - 
Saturday July 14 & Sunday, July 15, 9:00AM - 5:00PM
Need to clean out your house? Spaces now available for our 1st Annual Community Rummage Sale.
Deadline for rentals is June 30th. Space is limited so call now! (330) 434-7741
We have been hard at pulling things we no longer need. Here's a small list:
Winter Coats
Formal Dress
Men's and Woman's Dress/Casual shoes
Office Supplies
Wine and Martini Glasses
Artwork
Hardware
Housewares
Theatre Props
FURNITURE!!! SO MUCH FURNITURE!!!
Interested in volunteering at Coach House Theatre?
We need help Sunday, June 24 from Noon until 4:00PM.