News
Akron Woman's City Club feeds police, prepares to show off new chef with twice-monthly brunches for public
Jan 22, 2017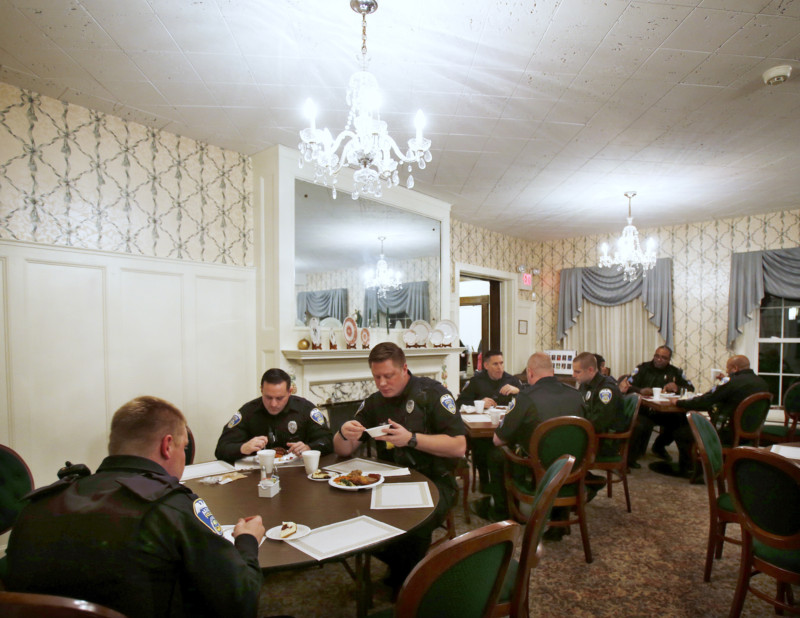 Members of the Akron Police Department eat dinner under chandeliers during the Akron City Women's Club annual Police Appreciation Dinner Saturday in Akron. The annual event has started again since a fire destroyed the club's kitchen last year. (Karen Schiely/Akron Beacon Journal)
By Amanda Garrett
The Akron Woman's City Club on Saturday evening smelled like Christmas, or maybe Thanksgiving, or whenever someone makes a big, home-cooked meal for people they love.
Akron police officer James Craft came through the door in uniform just after 6 p.m.
"How are you?" Woman's City Club President Betty Spencer asked, welcoming him to the club's 15th annual Police Appreciation Dinner.
"Good," Craft smiled, heading toward a buffet with a salad bar, fried chicken, meatloaf, chicken dumpling soup, sweet potatoes, red-skin potatoes, cheesecake and more. "Better, I'm much better now."
The dinner began in 2001, organizers said, after club member Elizabeth "B.J." Hittle stopped one night for gasoline and asked an Akron police officer where he ate dinner during the night shift. Most 24-hour diners had closed, he told her, and there were few options for a hot meal.
That prompted Hittle to organize the annual dinners at the club. She died in 2011, but the club membership has kept the tradition going. With the exception of last year — after a December 2015 fire wrecked the kitchen — the club has held the police dinner every January.
Doors open at 6 p.m. and meals are served until 2 a.m., including dog biscuits for K-9 officers like Vegas, a Belgian Malinois who stopped by the club with her handler, Sgt. Chris Davis.
Jim Cole, who organizes the club event, said they expected to serve about 110 officers overnight Saturday, plus pack up about 18 meals to go for dispatchers and others who couldn't leave their posts.
By 6 p.m. Saturday, about a half-dozen on-duty officers sat at four-top tables with full plates.
"The guys start looking forward to this a couple of months before it happens every year," Sgt. Karl Burton said.
Many Akron officers rely on Sheetz gas stations — where employees make burgers, sandwiches and other things to order — or they bring food from home. But they rarely have a hot, home-cooked meal.
Officer Paul Hill said he's come to the Woman's City Club dinner for 10 years.
"We love them as much as they love us," he said.
Recovering from fire
When the club kitchen caught fire in 2015, Akron police officers even made a small donation to help the club with the work, said Spencer, the club president.
The fire started in the kitchen, she said, and most of the damage was there. But smoke spread throughout the East Market Street venue — once known as the Stadelman Estate or "Gray Lodge" — forcing the club to repaint all the ceilings, including the ornate plaster work that hovers over one of its dining areas.
The club's kitchen was closed for 11 months, Spencer said, during which time they hired a new chef, Kris Kreiger.
Kreiger caught buzz among Cleveland foodies in the 2000s when he opened a butcher shop in Berea called Chef's Choice Meats, curing his own salami, chorizo and sausages. After the store closed in 2010, Kreiger went to work in Germany and was hired by the Akron Woman's City Club when he returned home, Spencer said.
Kreiger has modernized the club menu, adding his own specialities, including his cured corned beef and homemade sauerkraut.
In coming weeks, the club hopes to open twice monthly to the public for Sunday brunch, Spencer said, and possibly for occasional dinners, too.
Without a kitchen for nearly a year, the Woman's City Club lost its wedding business, she said, and its membership — once 1,000 strong with a waiting list — has dwindled to 184.
Spencer said she hopes the public outreach will show what the club and Kreiger have to offer.
But Saturday, as she greeted officers and helped pack up chicken dumpling soup to go, her focus was on the police.
"In these days, there are so many people against police," Spencer said. "I think it's even more important that we let them know that we appreciate them and what they do."
---
Amanda Garrett can be reached at 330-996-3725 or agarrett@thebeaconjournal.com